Trust Services Criteria (TSC)
SOC 2 audits vet organizations against a series of Trust Services Criteria (TSC) previously known as Trust Services Principles (TSP). Trust Service Criteria (TSC) are currently outlined in the latest 2017 AICPA Trust Service Criteria TSP Section 100.
The security criteria serve as assessment criteria for reporting on a list of controls that organizations must have implemented in their security programs. Organizations going through a SOC 2 audit may be evaluated on or more service criteria depending on the scope of the assessment and audit.
The five Trust Services Criteria (TSC) are:
1. Security
Information and systems are protected against unauthorized access, unauthorized disclosure of information, and damage to systems that could compromise the availability, integrity, confidentiality, and privacy of information or systems and affect the entity's ability to meet its objectives.
2. Availability
Information and systems are available for operation and use to meet the entity's objectives. Availability refers to the accessibility of information used by the entity's systems, as well as the products or services provided to its customers.
3. Process Integrity
System processing is complete, valid, accurate, timely, and authorized to meet the entity's objectives. Processing integrity refers to the completeness, validity, accuracy, timeliness, and authorization of system processing.
Processing integrity also addresses whether systems achieve the aim or purpose for which they exist and whether they perform their intended functions in an unimpaired manner, free from error, delay, omission, and unauthorized or inadvertent manipulation.
4. Confidentiality
Information designated as confidential is protected to meet the entity's objectives. Confidentiality addresses the entity's ability to protect information designated as confidential from its collection or creation through its final disposition and removal from the entity's control under management's objectives.
5. Privacy
How personal information is collected, used, retained, disclosed, and disposed to meet the entity's objectives. Although the confidentiality applies to various types of sensitive information, privacy applies only to personal information.
Additionally, the latest 2017 TSC standards for SOC 2 reports integrate the 2013 COSO framework.
COSO Framework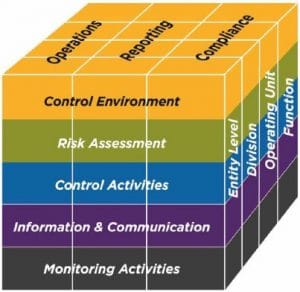 COSO provides a generally accepted framework for internal controls within the organization. SOC 2 integrates the COSO framework including the five components of internal controls:
2013 COSO Framework Components:
Control Environment
Risk Assessment
Control Activities
Information and Communication
Monitoring